Blanche
🐾 Meet Blanche – Your Purr-fect Companion! 🐾
Hello there! I'm Blanche, an elegant and affectionate long-haired beauty with a striking black and brown tabby coat and the cutest little black boots. I'm on the lookout for my forever home, and I come with a bundle of love and warmth to share with my new family.
About Me:
I'm not just a pretty face; I'm also known for my incredibly sweet disposition. I thrive on cuddles, chin scratches, and cozy naps in sunny spots. My luxurious, long fur is not just for show – it's an invitation for you to indulge in the joy of pampering and grooming me.
Health & Care:
I do have a small health routine, but nothing that a loving pet parent can't handle. I require thyroid medicine once a day, but don't worry, it's a simple tablet that you can crush and mix into my wet food. Easy peasy! I appreciate a caring and gentle touch during medication time, and I promise to repay you with purrs and headbutts.
Ideal Home:
I'm looking for a home where I can be the center of attention, receiving all the love and companionship I deserve. A calm and cozy environment would suit me best, and I wouldn't mind sharing the space with respectful feline or canine friends.
Why Adopt Me:
Affectionate Companion: I am the epitome of a lap cat – affectionate, gentle, and always ready to snuggle.
Low-Maintenance Medication: My daily thyroid medicine is a breeze to administer, making me an easy-going addition to your family.
Beautiful Inside and Out: My stunning long-haired coat is not just for show – it's an open invitation for you to pamper and care for me.
Adoption Details:
If you're ready to open your heart and home to a loving, mature feline friend, I'm the one for you! Fill out an adoption application and one of the kind volunteers at the shelter will reach out to you to schedule a time to meet me. Let's start our journey together. I can't wait to bring joy, warmth, and a whole lot of purrs into your life.
Thank you for considering me as your forever feline companion. I can't wait to meet my new family and create a lifetime of cherished memories together!
Purringly Yours,
Blanche 🐾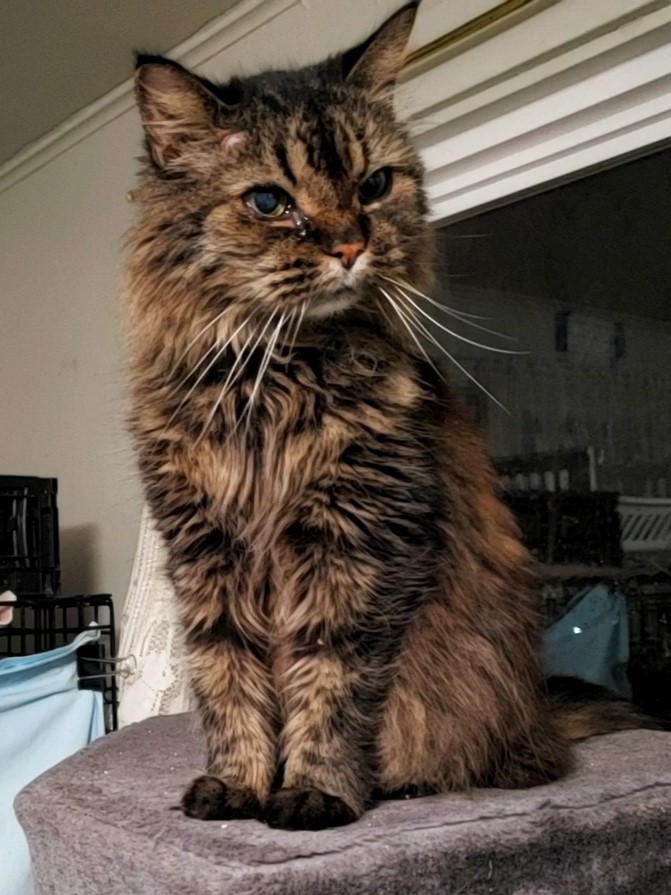 View photos of Blanche
Female
8 years old
Brown tabby short hair