Join us to celebrate 33 years of Cat Guardians!
Please join us as we celebrate 33 years of helping abandoned and stray street cats!
Our kitties (and volunteers) are planning a fun afternoon, with an open house, raffle prizes, treats and plenty of time to visit the kitties! Please plan on joining us if you can!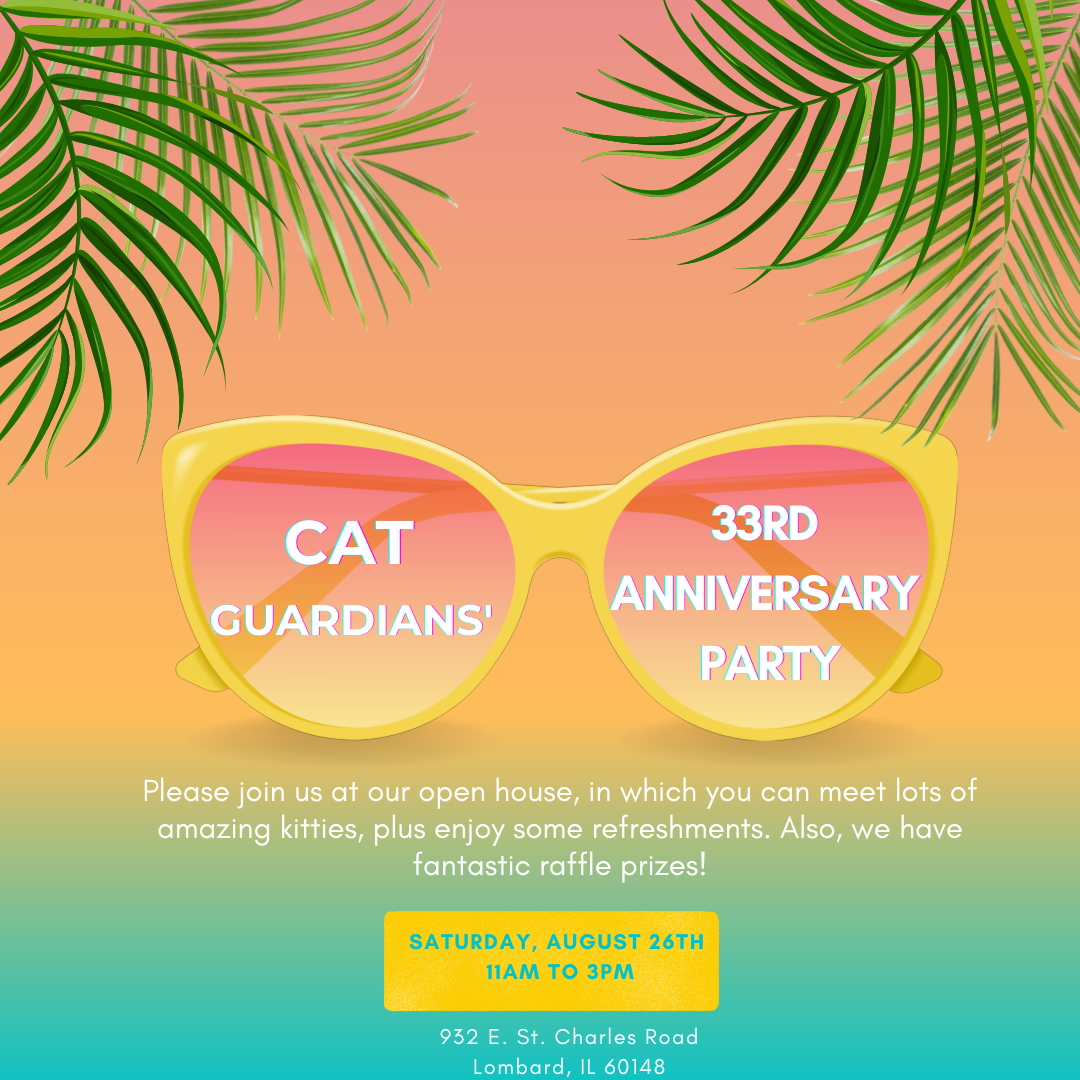 We will be raffling 5 items at our Anniversary open house … Pick your prize and send in your raffle tickets today to be a part of our drawing! Winner need not be present to win.
How do I enter?
Click here to download your raffle tickets.
Pick your prize and then mail your completed tickets and payment to:
Cat Guardians
932 E. St. Charles Rd.
Lombard, IL 60148
Tickets must be received by Friday, Aug 25th.
Or, you can buy tickets at our open house on Saturday, Aug 26th from 11 to 3 pm.
What are the prizes? We're glad you asked!
---
PICK YOUR PRIZE:
Looking for a way to relax … for yourself or your favorite feline? Then our Pick your Prizes are just the thing for you!
Each item will be raffled separately … so you can buy tickets for just one, or all five of the drawings!
Tickets are $1 each or 6 for $5.
Be sure to select one raffle prize for each ticket!
(Unmarked tickets will be randomly distributed between the five Pick a Prize raffles.)
"Welcome Home"
Everything needed to welcome home your new kitty!

Cat Carrier with Interior Cat Mat
Plush Cat Bed
Handknit Cat Blankets
Litter Box
2 Jugs of Cat Litter
Litter Box Scoop
"Keep it Tidy"
| | |
| --- | --- |
| Perfect for those who want an extra tidy litter area! | |
"Snug as a Bug"
Scratch, nap and eat! What more can a pampered kitty want?

Cat Scratcher
Felted Cat Bed
Handknit Kitty Throw Blanket
Decorative Kitty Food and Water Bowls
Kitty Food and Water Mats
"Relax"
Spend the night in with your best kitty friend!

Nordstrom Leather Beauty Bag
Knit Blanket
Handknit Cat Blanket
Buddha Board
3-Wick Scented Candle
Cherry Blossom Green Tee
Bath Bomb
Hand Embroidered Towel
Assorted Bath Items
"Refresh"
Give your favorite Cat Mom a treat!

Sak Leather Handbag
Gold Cat Necklace
Vanilla Scented 3-Wick Candle
Bath and Body Works Tiki Bay Island Margarita Body Lotion and Shower Gel
Assorted Bath Items
Bottle of Red Wine